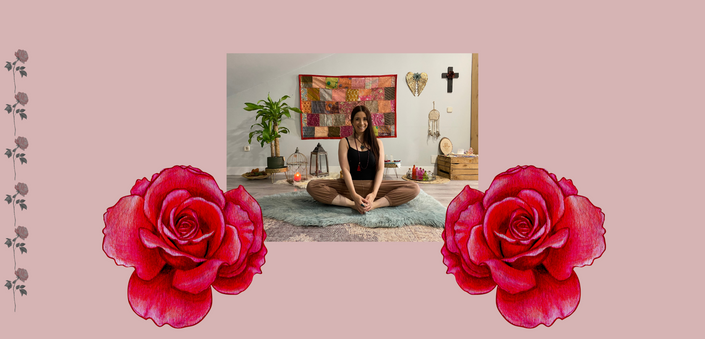 Magdalene Womb Yoga Training
In these times when we are literally being forced to go through a birth canal to inhabit the New Earth, cultivating a personal practice is essential, and with perseverance, we vibrationally become the practice and everything in our life begins to interconnect. With a daily practice the changes in our life our noticeable.

I started practicing Yoga when I was 11 years old and since then I have felt a fascination and devotion for the medicinal practices of this ancient technology. Together with the guidance of Mary Magdalene and an in-depth study on the Body and Psyche of Women, Womb Yoga opens us to a practice designed for the different moments of our life. From the physical to the mystical, Womb Yoga will connect you with the Channel of the Infinite Feminine.

Welcome to the Magdalene Womb Yoga Training.

Magdalene Womb Yoga is a Yoga that nourishes women at every stage of our life, emotionally, spiritually, physically and mentally. It also works the Healing and Activation of the Womb (Physical, energetic and cosmic). We become aware of the inherent wisdom of the Sacred Feminine, we return to our Silence and Wisdom and remember how to honor our portal of creation and strengthen the channel that unifies our womb with the heart. We synchronize our rhythms to the rhythms of Mother Earth, the moon and our own internal rhythm.

The womb is our center of power and our connection to source. Magdalene Womb Yoga guides us to dance with the cosmic rhythms of the universe. Womb Yoga activates the Kundalini energy from the subtlety of the feminine and opens the portals of the Divine Feminine in our body. It is beneficial in healing diseases and disorders and at the same time releases energies, emotions and ancestral patterns stuck in our wombs. Today, in times of so much change, the existing salvation is to align ourselves with the womb of the Divine Mother, and that womb is within us. To understand a new stage of the Earth, is to understand that the path to evolution will only be given in the re-encounter with our feminine channel.
The feminine is the energy that encompasses everything, that is EVERYTHING and that is manifested in life itself, and all this energy is found in our womb, the space full of infinite possibilities that connects us with the Mother - Father. Purifying and activating HER power, this sacred space becomes the HOLY OF HOLIES. Living from the Divine Feminine is a philosophy of life, it is life itself at every moment. It is honoring the sacred connection, present in every moment, that we have with life. It means understanding that life is a whole and beginning to recognize the interconnections that make up the web of life. It means understanding that everything, every act, even every thought, affects everything. And it also means that we allow life to speak to us.

As I guide my WOMB to find creation in HER silence, I deliver myself whole every day.

Ana Otero

Magdalene Womb Yoga Incorporates:

Specialized Kriyas for Women Channeled through Mary Magdalene

Asanas and Body Work specific for Women
Kriyas made for the Body and Psyche of Women
Mantras from different ancestral traditions
Healing work with mudras and Light Language
Drumming and sacred sounds
Mantric Choreographies and Celestial Communications
Kriyas of Cosmic alignment
How does the Training work?
This is a 6 month online training that includes live sessions as well as Pre-recorded sessions and material.
Every week new course material will be uploaded to the platform and we will meet every Month for our live sessions. These live sessions will also be focused on the Practice, Theory and Q and A. The dates for our Live Monthly Weekend Gatherings:
16 and 17 of January
15,00 - 18,00 CET.

THE PHYSICAL WOMB
20 and 21 of February 15,00 - 18,00 CET. THE ENERGETIC WOMB
20 and 21 of March 15,00 - 18,00 CET. THE SACRED FLAME WOMB
24 and 25 of April 15,00 - 18,00 CET. THE DIVINE UNION WOMB
29 and 30 of May 15,00 - 18,00 CET. THE DRAGON WOMB
19 and 20 of June 15,00 - 18,00 CET. THE COSMIC WOMB
This Teacher Training comes with a Certification. When you have complete the training you will receive certification from:
1. Mary Magdalene Mystery School as a Practitioner of Womb Yoga.
2. A Certification as a Practitioner of Holistic Medicine in Magdalene Womb Yoga.

May the Magdalene Flame guide you every day in every way.

Ahava,

Ana Otero

CEO and Founder Mary Magdalene Mystery School®
Your Instructor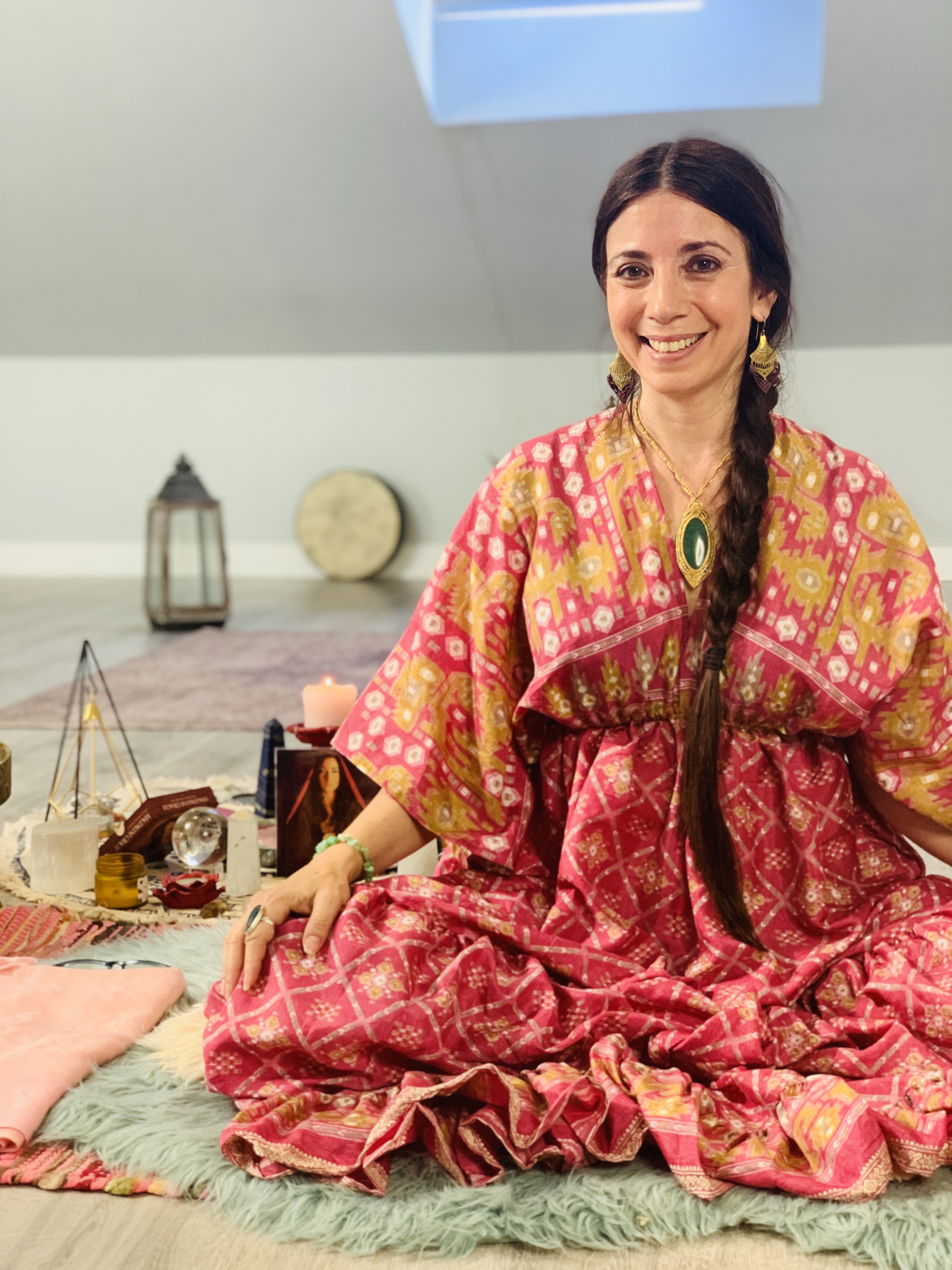 Ana Otero, PHD in Dance Movement Therapy, is a Dancer, Writer, Priestess and Lover of all Artistic Expressions. In 2011 after a strong dark night of the soul she had her first apparition of Mary Magdalene while she was in the desert of Oman. Following the teachings given to her by Mary Magdalene through her Channelings and Apparitions, Ana Otero created Mary Magdalene Mystery School in 2014 with a Campus in Spanish and a now, since January 2020, a Campus in English. She has lived in the United States, Egypt, Kuwait, the United Arab Emirates and currently resides in Spain. Ana Otero is dedicated to her Online School and also teaches Courses, Trainings and Retreats all over the world.
AHAVA

Course Curriculum
Womb Yoga Training Introduction
Available in days
days after you enroll
The 6 Wombs Embodiment Practice
Available in days
days after you enroll
Blessed Magdalene Womb Journey! AHAVA