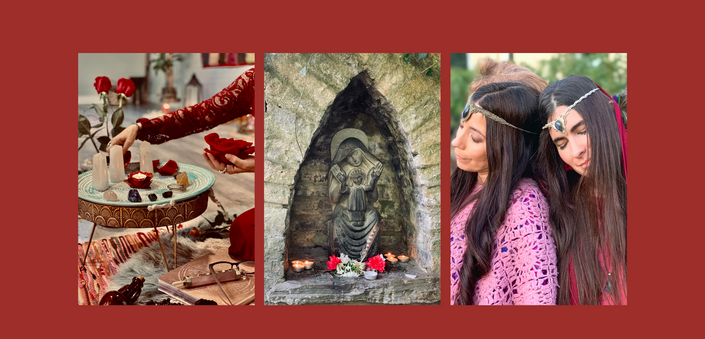 Magdalene Shabbat
The Lover and the Beloved - El Amado y la Amada
English - Español
Ahava and Blessings!
This month of September we gather in the Exaltation of the Divine Feminine Presence. The word Shabbat derives in it´s Babylonian origin to mean the 15th Day of the Moon. This day was seen as a Day of receiving Blessings and if we think of the number 6, 1 and 5, 6 represents the HAND OF GOD (Abwoon. Mother - Father). A derivation of this word also means 7 in Akkadian (Babylonian), so with time people started celebrating the Shabbat on the 7th day of the week, which in many cultures meant on the Friday. The Greek Hebrew Christians changed it to Saturday and the Romans to Sunday.

How can we receive the HAND OF THE ABWOON ? By honoring the Divine Feminine Presence, by allowing HER ro take us into Communion with our Soul. She infuses us with love and courage to be the best version of ourselves. It is SHE who brings us into communion with the soul and who takes us out of slavery. We tend to become slaves of a system, of our fears, of our repetitive patterns, etc. Shekinah brings us into DivineUnion within ourselves.

Our Magdalene Shabbat will be on Friday, September 17th. This will be a very special Magdalene Shabbat as we will open up to the Frequencies of the Lover and the Beloved, the Bride and the Bridegroom.
I have established a symbolic donation for this gathering as Mary Magdalene Mystery School practices the act of giving through donation to different organizations. The main part of our GIVING is to THE FUNDACIÓN VICENTE FERRER.

Please have prepared with you:
- a chalice-bowl of water
- bread and fruit juice /wine
- 2 candles
- incense, palo Santo or smudging herbs (sage, juniper, etc.)
See you on the 17th! If you cannot make it in real time the replay will be available for 48 hours. Magdalene Shabbat is a Holy Experience, like a mass, let us all be respectful of each other.

The Shabbat is in English and Spanish.
Ahava and Blessings to all,
Ana Otero
Este mes de Septiembre nos reunimos en la Exaltación de la Divina Presencia Femenina. La palabra Shabbat deriva en su origen babilonio para significar el día 15 de la Luna. Este día fue visto como un Día de recibir Bendiciones y si pensamos en el número 6, 1 y 5, el 6 representa la MANO DE DIOS (Abwoon. Madre - Padre). Una derivación de esta palabra también significa 7 en acadio (babilónico), por lo que con el tiempo la gente comenzó a celebrar el Shabbat el séptimo día de la semana, que en muchas culturas significaba el viernes. Los cristianos hebreos griegos lo cambiaron al sábado y los romanos al domingo.
¿Cómo podemos recibir la MANO DEL ABWOON? Honrando la Divina Presencia Femenina, permitiendo que ELLA nos lleve a la Comunión con nuestra Alma. Ella nos infunde de amor y coraje para ser la mejor versión de nosotros mismos. Es ELLA quien nos pone en comunión con el alma y nos saca de la esclavitud. Tendemos a convertirnos en esclavos de un sistema, de nuestros miedos, de nuestros patrones repetitivos, etc. Shechinah nos lleva a la Unión Divina dentro de nosotros mismos.

Nuestro Shabbat María Magdalena será el viernes 17 de Septiembre. Este será un Shabbat muy especial ya que trabajaremos con la Frecuencia del Amado y la Amada.

He establecido una donación simbólica para este Shabbat ya que Mary Magdalene Mystery School practica el acto de dar a través de donaciones a diferentes organizaciones. Actualmente la parte principal de nuestra Misión de DAR es a las organizaciones LOVE WITHOUT BOUNDARIES Y LA FUNDACIÓN VICENTE FERRER.
Por favor, ten preparado:

- un cáliz-cuenco de agua

- pan y zumo de frutas / vino

- 2 velas

- incienso, palo santo o hierbas para difuminar (salvia, enebro, etc.)

¡Nos vemos el 17! Si no puedes estar en tiempo real tendrás acceso al Shabbat Durant 48 horas. Magdalene Shabbat es una experiencia sacra. Seamos respetuosos durante el encuentro.

El Shabbat es en Español e Inglés.
Ahava,

Your Instructor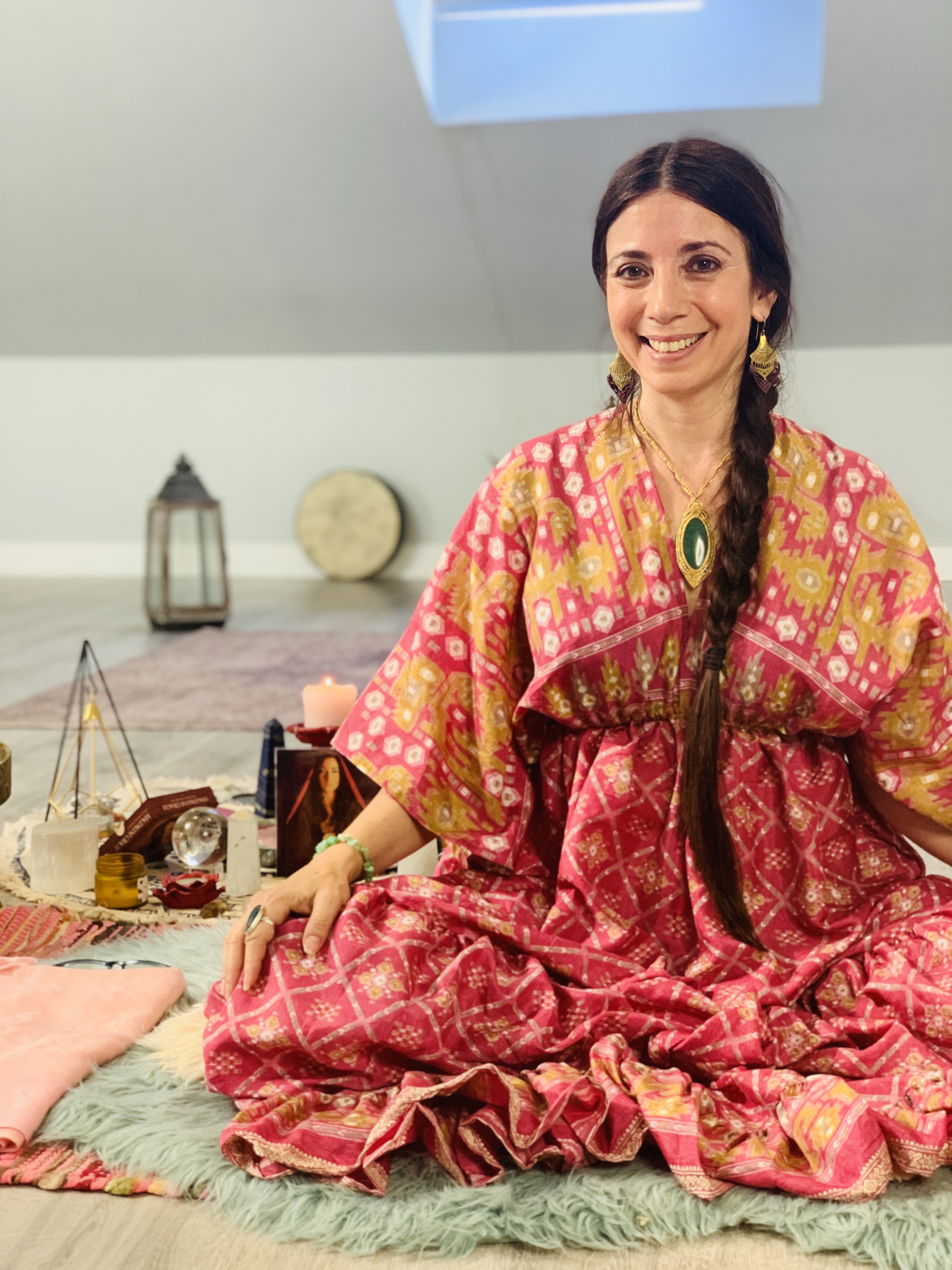 Ana Otero, PHD in Dance Movement Therapy, is a Dancer, Writer, Priestess and Lover of all Artistic Expressions. In 2011 after a strong dark night of the soul she had her first apparition of Mary Magdalene while she was in the desert of Oman. Following the teachings given to her by Mary Magdalene through her Channelings and Apparitions, Ana Otero created Mary Magdalene Mystery School in 2014 with a Campus in Spanish and a now, since January 2020, a Campus in English. She has lived in the United States, Egypt, Kuwait, the United Arab Emirates and currently resides in Spain. Ana Otero is dedicated to her Online School and also teaches Courses, Trainings and Retreats all over the world.
AHAVA

Course Curriculum
Magdalene Shabbat September 17th - 17 de Septiembre
Available in days
days after you enroll