Ahava and Blessings
Welcome to the Magdalene Frame Drum Online Retreat: Empowerment through Sound and Vibration.
Frame Drumming is such a Powerful Practice that connects us to the Divine Feminine Presence and the Wisdom of the Desert Teachers. When we Drum, our Rhythm is aligned and synchronized to the Rhythm of the Universe. What better way to awaken our Cosmic Connection and Expression.
This Frame Drum Online Retreat is for all levels. I will begin by going through and reviewing the basics of frame drumming and then we will learn different Rhythms of the Desert that heal and awaken through different MAQAMS. Maqam is an arabic word which means MUSIC THAT AWAKENS A CERTAIN EMOTION. These desert rhythms are so ancient that they go back to Lemuria as the Vibration of the Divine Feminine Presence and the Magdalene Frequency. We will tune in to specific Aramaic Mantras and Lemurian Light Language all aligned with Magdalene Frequencies being seeded here on the planet at this moment. We will weave the Drumming Practice with Voice, Sacred Dance and Ritual. I will introduce the new Sarah Tamar codes art work I have been creating and we will drum and chant to these particular vibrations.

This Magdalene Frame Drum Online Retreat is on October 31, 15,30 - 18,30 CET. If you cannot be present in Real Time the Retreat will be recorded and available for Replay (great for practicing). This is a wonderful way to celebrate Samhain and Beltaine, the beautiful polarity of Inner Power, Love, Sexuality, Life and Beauty. We also will have received the amazing activations of leadership and Soul Mission of the Full Moon in Aries. We are so ready for this!

We will finish with a beautiful Samhain and Beltaine Ritual, honoring the MAGDALENE in both of these expressions.
You will also receive a Ebook with all of the Rhythms and Chants practiced during our Retreat. This way you can practice on your own!
If you don´t have a Frame Drum there is an open section in the Curriculum Section of this Page where I give you information on how to acquire one.
If you have any questions you can email me: [email protected]
Blessings to you.
AHAVA,
Ana Otero
Your Instructor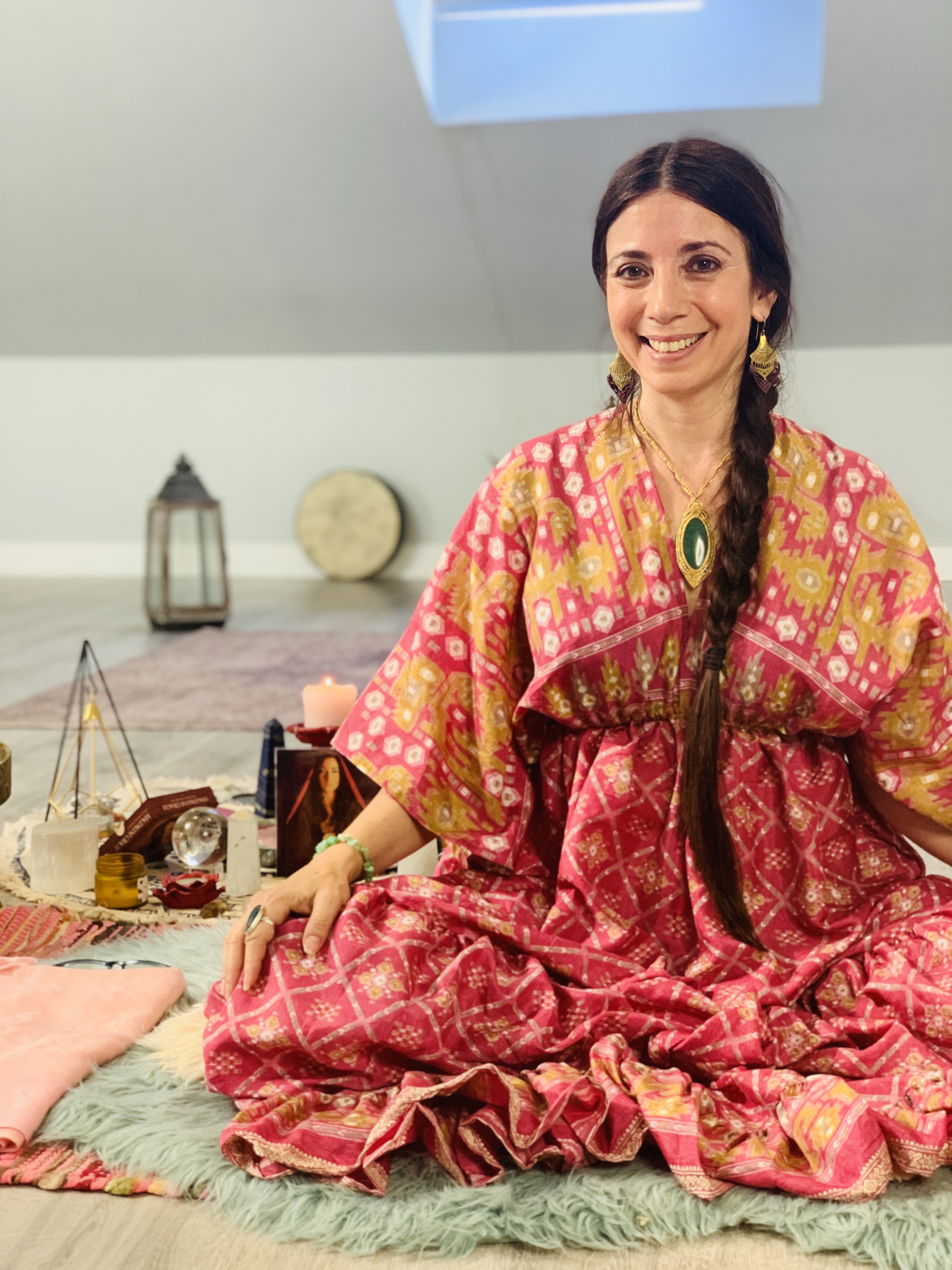 Ana Otero, PHD in Dance Movement Therapy, is a Dancer, Writer, Priestess and Lover of all Artistic Expressions. In 2011 after a strong dark night of the soul she had her first apparition of Mary Magdalene while she was in the desert of Oman. Following the teachings given to her by Mary Magdalene through her Channelings and Apparitions, Ana Otero created Mary Magdalene Mystery School in 2014 with a Campus in Spanish and a now, since January 2020, a Campus in English. She has lived in the United States, Egypt, Kuwait, the United Arab Emirates and currently resides in Spain. Ana Otero is dedicated to her Online School and also teaches Courses, Trainings and Retreats all over the world.
AHAVA

Course Curriculum
Magdalene Drumming Retreat
Available in days
days after you enroll