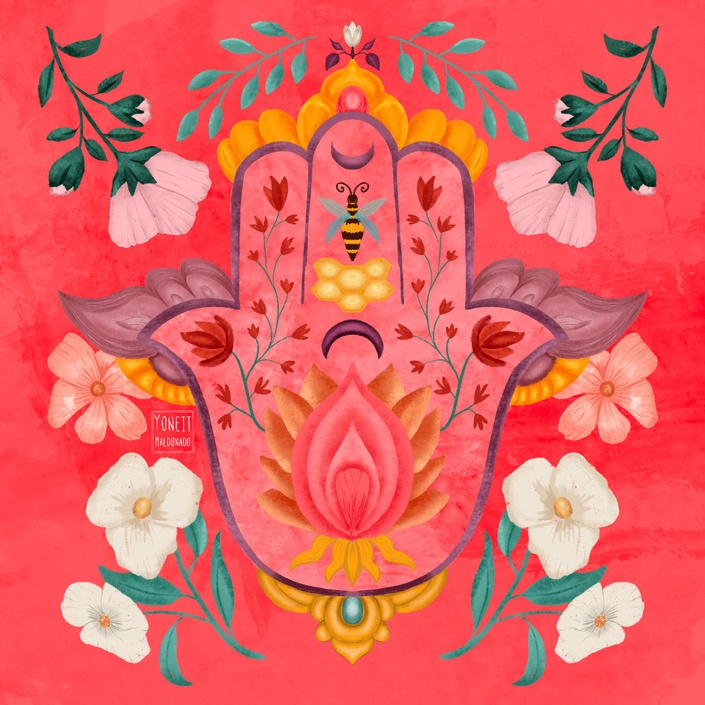 Hamsa Manifestation Ritual 5-5
English - Español
English - Español
English
Are you living within your understanding of who you are as a Soul Essence incarnated?

Have you understood your commitment and the depth of your commitment?
What does it mean to live a full life?
When we experience the journey of the embodied Soul and allow our vessels to open up to receive Divine Inspiration and to be filled with the Grace of the Holy Spirit, the Divine Feminine Presence, we are then given the Blessing of what is known as the HAMSA, THE HAND OF GOD (The Hand of Shekhinah, the Hand of the Divine Feminine Presence). The Hamsa pushes us forward into our commitment with ourselves, showing us how to create space within our lives so as to live in RECEPTION, an active state of Giving and Receiving.
Abundance is a Frequency.
Manifestation is the power to be infused with this Frequency so as to birth that which our Soul Desires.
Welcome to another year of the Hamsa 5-5 Manifestation Ritual.
On May 5 (month 5, day 5) we will celebrate as every year one of the most powerful rituals of Manifestation. I have been facilitating this Ritual for 8 years now and I feel that it is necessary more than ever now that we are livinig in a totally different Frequency.
The two most powerful portals of Manifestation and Abundance throughout the year are 5 5 (May 5) and 11 11 (November 11). As every year, we will work with the Hamsa, also known as the hand of Fatima, the Hand of Myriam and the Hand of God, being one of the most powerful symbols to activate the codes of abundance/manifestation and remove energy blocking the flow of our prosperity and manifestation. People who have done this ritual have seen very tangible changes in their life. I too have seen the magic in my life.

Whenever we are in a cosmic portal, we are given the opportunity to be in the Highest form of Creation. Yes, the creative energies are the most intense and the Light that we can access, the Light of Creation that has no duality, allows us to bring our dreams and desires to life.

Remember your power and role in this Universe as a co-creator. Know you are magical and know you deserve to put your dreams out into the ethers so they can begin to materialize in this 3D plane.
Every year the Ritual changes, although we are working with the energy of the Hamsa every year, the energies that I am called to work with are different every year.
A very important part of this Work that we will do together is decoding the Aramaic Activations connected with the Hamsa. This year 2022 we will be working with the Pleiadian Presence, the Constellation of Taurus and Venus. We will also receive guidance and a transmission from Mary Magdalene. We will travel to Hathors Temple to receive the Sacred Sounds of the Mother.

This is a ritual of manifestation on the material plane, since the number 5 represents the manifestation of the 5 elements in matter. We will enter into the Hamsa Vibration to integrate how the energy of the Sacred Fire moves in the Art of Manifestation. This Ritual was held on May 5, 2022. You can experience this workshop on demand as these teachings are infinite and living.
This Online Hamsa Manifestation fills up quickly, so I recommend registering early.
Once registered, you will have access to the Workshop Ritual and the Material. This workshop is in English and in Spanish.

May we always know that we are the LOVE of the ABWOON, of the MOTHER-FATHER.

Ahava,
Ana Otero
ESPAÑOL
¿Estás viviendo dentro de tu comprensión de quién eres como una Esencia de Alma encarnada?
¿Has entendido tu compromiso y la profundidad de tu compromiso?
¿Qué significa vivir una vida plena?
Cuando experimentamos el viaje del Alma encarnada y permitimos que nuestras vasijas se abran para recibir la Inspiración Divina y se llenen con la Gracia del Espíritu Santo, la Divina Presencia Femenina, entonces recibimos la Bendición de lo que se conoce como HAMSA, la MANO DE DIOS (La Mano de Shekhinah, la Mano de la Divina Presencia Femenina). Hamsa nos empuja hacia adelante en nuestro compromiso con [email protected] [email protected], mostrándonos cómo crear espacio dentro de nuestras vidas para vivir en RECEPCIÓN, un estado activo de Dar y Recibir.
La Abundancia es una Frecuencia. La Manifestación es el poder de ser infundido con esta Frecuencia para dar a luz lo que nuestra Alma Desea.
Bienvenidos a otro año del Ritual de Manifestación Hamsa 5-5.

El 5 de Mayo (mes 5, día 5) celebraremos como cada año uno de los rituales más poderosos de Manifestación. He estado facilitando este Ritual durante 8 años y siento que es más necesario que nunca ahora que estamos viviendo en una Frecuencia totalmente diferente.
Los dos portales más poderosos de Manifestación y Abundancia a lo largo del año son el 5 5 (5 de mayo) y el 11 11 (11 de noviembre). Como todos los años, trabajaremos con el Hamsa, también conocido como la mano de Fátima, la Mano de Myriam y la Mano de Dios, siendo uno de los símbolos más poderosos para activar los códigos de abundancia/manifestación y eliminar la energía que bloquea el flujo de nuestra prosperidad y manifestación. Las personas que han realizado este ritual han visto cambios muy tangibles en su vida. Yo también he visto la magia en mi vida.
Cada vez que estamos en un portal cósmico, se nos da la oportunidad de estar en la forma más alta de Creación. Sí, las energías creativas son las más intensas y la Luz a la que podemos acceder, la Luz de la Creación que no tiene dualidad, nos permite hacer realidad nuestros sueños y deseos.
Recuerda tu poder y tu papel en este Universo como co-creador. Eres má[email protected] y mereces poner sus sueños en el éter para que puedan comenzar a materializarse en este plano 3D.
Cada año cambia el Ritual, aunque cada año estemos trabajando con la energía del Hamsa, las energías con las que estoy llamada a trabajar son diferentes cada año.
Una parte muy importante de este Trabajo que haremos juntos es decodificar las Activaciones Arameas conectadas con el Hamsa. Este año 2022 estaremos trabajando con la Presencia Pleyadiana, la Constelación de Tauro y Venus. También recibiremos guía y transmisiones de María Magdalena. Viajaremos al Templo de Hathor para recibir los Sonidos Sagrados de la Madre.
Este es un ritual de manifestación en el plano material, ya que el número 5 representa la manifestación de los 5 elementos en la materia. Entraremos en la Vibración Hamsa para integrar cómo se mueve la energía del Fuego Sagrado en el Arte de la Manifestación. El Ritual 55 se celebró el 5 de Mayo, 2022. Puedes realizar este workshop en cualquier momento ya que estas enseñanzas son infinitas y vivientes.
El Ritual de Manifestación Hamsa 5-5 en línea se llena rápidamente, por lo que recomiendo registrarse temprano.

Una vez [email protected], tendrás acceso al Ritual y el Material. Este Workshop es en inglés y en español.
Que siempre sepamos que somos el AMOR del ABWOON, de la MADRE-PADRE.
Your Instructor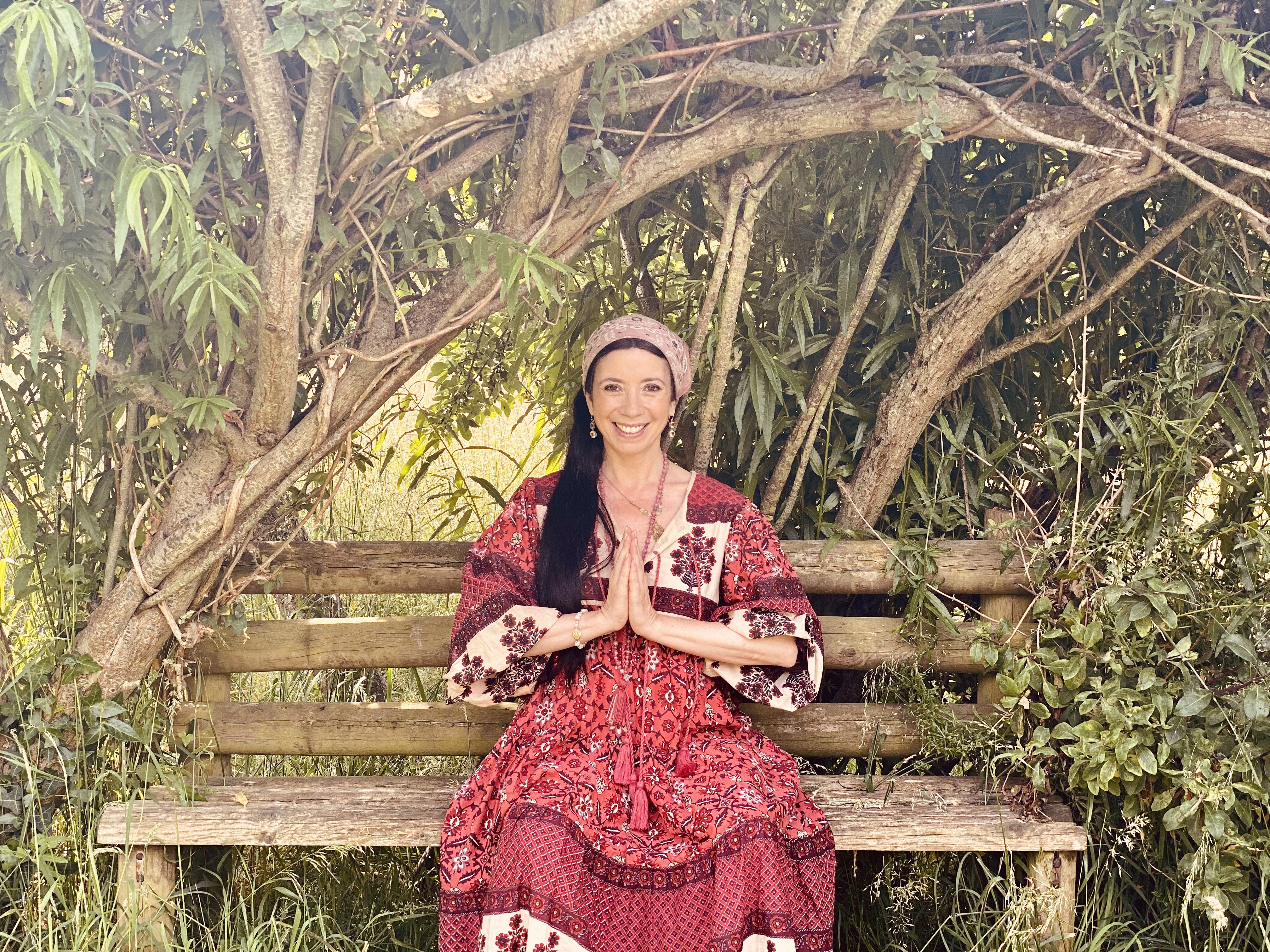 Ana Otero is a Mystic, Dancer, Author, Yogi, Artist, Teacher of the Desert Rose Transmissions, Mother and Lover to the Beloved. She holds a PHD in Dance Movement Therapy and strongly incorporates embodiment in all of her work. In 2011 after a dark night of the soul she had her first apparition of Mary Magdalene while she was in the desert of Oman. Following the teachings given to her by Mary Magdalene through her Channelings and Apparitions, Ana Otero created Mary Magdalene Mystery School in 2014, which later became in 2022 Ahava University. Ana Otero offers online and live trainings, workshops, retreats, and events.
AHAVA